Company profile
ENUKANTO CO.,LTD.
President
    and CEO

Toshio Nozawa

Address

2nd Floor, Hatsudai Heights Building, 1-7-2 Hon-machi, Shibuya-ku, Tokyo, Japan

Founded

March 2, 1970

Capital

10,000,000 yen

Scope of
    business

Planning and producing sales promotion POPs and visitor giveaways, and planning and implementing product shows and other sales promotion events

Main banks

Shinjuku Nishiguchi Branch of Sumitomo Mitsui Banking Corporation
Hatsudai Branch of Higashi-Nippon Bank
Shibuya Chuo Branch of Mizuho Bank
Shinjuku Nishi Branch of Sawayaka Shinkin Bank

Legal counsel

Ginza First Law Office

Membership

Japan Promotional Marketing Institute Inc.
History
1970

Company founded as a sales promotion specialist to plan, design and produce POPs, to plan and implement product shows, and to design and produce in-shop display tools.
The company mainly served pharmaceutical firms at this stage.

1975

Started installing and managing distribution stands for "Japan This Week" (currently "Nippon Now"), the national government's public relations magazine, in major railway stations in Tokyo, Osaka and Nagoya.

1978

Became the official advertising agency for "Japan This Week".

1980

Expanded the scope of business to serve the consumer electronics and audio equipment industries.

1990

Started competition-based marketing activities.

1995

Started marketing activities targeting the CVS industry based on a Five-year Business Plan.

1998

Acquired Japanese patent for Roller Slider (Patent No. 3163060).
Acquired US patent (Patent No. 6089385).
Roller slide system introduced to all shops of the Daily Yamazaki convenience store franchise.

2002

Won the Technical Award at the Japan POP Festival organized by Japan Promotional Marketing Institute Inc.

2005

Developed the first model of 4.5-inch wide WWDP (N-S501).

2006

Developed the first model of 7-inch wide WWDP (N-G601).
Acquired ISO14001:2004 certification.

2007

Developed the second model of 7-inch wide WWDP (N-E701).)

2010

Employees acquired "Promotional Marketer" certification.

2014

Acquired ISO9001:2008 certification.

2016

Entered into a licensing contract with Flexico of France for the use of our US patent No. 6089385.

2017

Acquired Japanese patent for the SP Drone (No. 6080143).
Became an approved member of the Tokyo Metropolitan Business Innovation Plan.
Acquired Japanese Patent for the IoT-based digital POP and in-store affiliate by owned media (No. 6243570).
Acquired "Omotenashi Japan Service Quality" certification.
Acquired ISO9001:2015 certification (Certificate No. 10254-01).

2018

Acquired US patent for the SP Drone (No. 9984389).
Acquired Chinese patent for the SP Drone (No. ZL 2016 1 0867945.2).

2019

Acquired Japanese patent for the airborne display system (No. 6482794).
Acquired Macau patent for the SP Drone (No. J/003518).
We gave a talk at the "SENDENKAIGI (Advertising & Marketing) seminar - Retail Conference 2019 to solve store issues" in Tokyo on 17th Sep 2019.
The report of that seminar was published in the magazine "HANSOKUKAIGI (Sales Promotion) December 2019 issue".
Won the Gold Award at the 49th Japan Promotional Marketing Institute Exhibition.

Trading partners
・First Section of the Tokyo Stock Exchange
・Foreign-affiliated major enterprises
・Top-scale retail companies
etc.

Business philosophy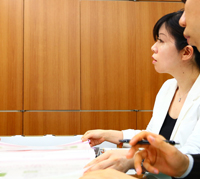 A business enterprise should be a place for people to do creative work.
Enukanto believes that the ideal company is where each and every employee, or everybody who is involved in the work including the executives, plays a unique role with their own aspirations while working as one to achieve greater value.
Mission statement
Develop and maintain a workplace that gives opportunities to all employees to grow as a person and to realize a fulfilling life for themselves and their family.
Work as a small, nimble and market-oriented group of people with unique business and management expertise to achieve harmony between personal fulfillment and social growth.
Engage in business activities to endlessly pursue new, better values.
Goal of business activities
Realization of social roles
Create diverse worthwhile values for the benefit of our clients and thereby develop and produce innovative products and tools.
Maintain and improve profitability with a strong focus on independence to achieve greater net corporate worth.
Management approach
We aim to constantly adapt to the external environment and stay in touch with the internal environment to achieve continuous growth.
Business is alive. Everything alive will and must keep growing.
We work on every challenge with sincerity and utmost effort to build greater trust and confidence.